Gong-gam is proud of its litigation portfolio and its successes in promoting and protecting the rights of women. Gong-gam is proud of its litigation portfolio and its successes in promoting and protecting the rights of women.

In one case, we represented a female military officer who, after having been sexually harassed by a male superior officer, was brought before a military tribunal for insubordination. While the female officer was found guilty by the tribunal, we appealed the case to the Military High Court where we were successful in overturning the insubordination conviction. We are now active in working towards policy changes within the military which would identify and eliminate the harmful effects of sexual harassment and discrimination against women.
A Chinese woman in a domestic violence action
Women from the Philippines who sued their employer for forcing them into prostitution
A Vietnamese woman who fought to regain custody of her children after she unwittingly married a Korean man simply to become a surrogate mother for him and his former wife.
Gong-gam's efforts to educate activists, private sector lawyers, and the public on the importance of protecting and promoting human rights include events focused on the plight of migrant women. We recently organized and hosted training sessions and conferences for immigration activists on the special needs of migrant woman married to Korean nationals, domestic violence, and sexual harassment in the workplace.
International Marriage Brokers: As local authorities promoted so-called international marriages between Korean men and foreign women to address declining rural populations, the exploitative and discriminatory practices of international marriage brokers came to light. Gong-gam, after raising public awareness of local authorities' subsidies to marriage brokers, successfully urged the Korean government to introduce legislation in this area, resulting in the enactment of a law in 2008 to regulate the activities of international marriage brokers.

Family Registration System: Recently, the old family registration system in Korea (호주제), in which only men could be the head of a household, was abolished. In its place, a new law concerning registration of family status was enacted to signify a new system of ID registration. However, under this new system, violation of privacy rights became evident with the unwanted release of personal information, such as records showing a previous divorce and remarriage, the existence of children born of a previous marriage, sex change status, adoptions that were intended to be kept secret, etc. Since prejudice and discrimination against divorced or remarried women, as well as single unmarried mothers, are still quite problematic in Korean society, these violations of privacy rights exacerbate their already precarious situation. Within this context, Gong-gam, in seeking to limit the release of personal information and to protect privacy rights, has worked together with women's groups, other human rights groups and lawmakers, to propose amendments to the law, to seek changes to the system, and to raise public awareness of the issues.
| | Judgment given to Vietnam woman on violation of reproductive rights | 2009.09.21 15:09 | 5917 | |
| --- | --- | --- | --- | --- |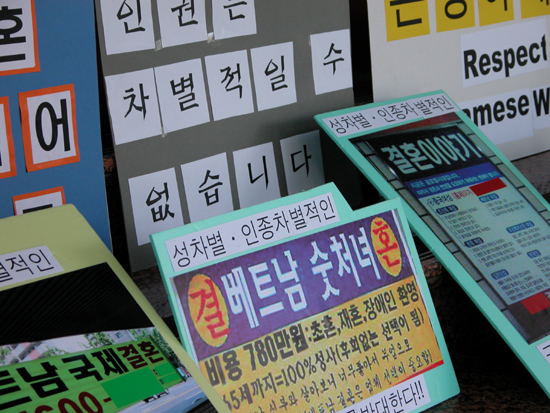 Gong-gam filed a lawsuit against co-defendants A and B for violating the parental rights and individual rights of plaintiff C and inflicting severe mental distress pursuant to their illegal actions. A request for compensation was filed under Article 751(1) and Article 760 of the Civil Code on the grounds that the plaintiff's parental rights, right to child rearing, right to dignity, and right to happiness had been violated.
Plaintiff C, an 18-year-old Vietnamese woman, came to Korea to marry Defendant A in 2003. She gave birth to two babies with Defendant A in 2004 and 2005. However, as soon as she gave birth, she could not meet or see either of her babies because Defendant A handed them over to his ex-wife (Defendant B) against the defendant's will. Plaintiff C did not know where her children were, and she never agreed to waive her parental rights.
When Plaintiff C was eight months pregnant with their second child, her husband defendant A started to demand a divorce. He told plaintiff C that he would lose all his assets if he did not return to his ex-wife. After delivering the second baby, the husband's demands for divorce grew harsher and the plaintiff still had no idea where her children where. Confronted with postpartum depression, the sudden disappearance of her babies, and a cold husband, the plaintiff complied with the divorce request in 2007.
Immediately after the divorce, co-defendants A and B filed for remarriage and concealed their address so that C could not find her children. The co-defendants had been married for twenty years prior to their divorce. Defendant B was unable to conceive children, so they agreed to find a surrogate mother. They planned to find a surrogate mother from abroad, so they divorced on the condition that they would reunite after the surrogate mother bore children. However, plaintiff C was separated from her children against her will, and she never consented or was made aware that she would be acting as a surrogate mother on behalf of ex-wife defendant B.
Defendant A's claim was that he had true intentions to marry plaintiff C but he changed his mind after hearing that foreign wives run away after marriage. He decided to give money to plaintiff C and divorce her after she gave birth to the children. He claims that there was a mutual agreement between himself and the plaintiff that he would pay money in exchange for plaintiff C bearing children. He claims he used a Korean-Vietnamese dictionary to point out the relevant words with his fingers to make things clear. He claims that plaintiff C was fully aware of this mutual agreement. The defendants argued that their actions of using the plaintiff as a surrogate mother, demanding divorce, and depriving the plaintiff of her parental rights were all justifiable because there was a mutual agreement beforehand.
The original court granted a favorable judgment to the plaintiff on the grounds that the plaintiff's rights had been violated, and a partial amount of the requested compensation fee was awarded to the plaintiff. The defendants admitted to the following facts: (1) defendants A and B got divorced due to infertility, (2) defendant A asked his ex-wife to rear the first-born child one month before the child's birth, (3) defendant A handed over the first-born child to his ex-wife after the child was born, (4) defendant B reared the first-born child, (5) as soon as the second child was born, defendant A took the child to his ex-wife again, (6) defendants A and B immediately got remarried after A divorced from the plaintiff, and (7) defendants A and B hid their address so that the plaintiff could not find her children. According to these facts,
it was determined that the defendants A and B violated the rights of the plaintiff, especially her parental rights, right to child rearing, right to dignity, and right to personal liberty. It was determined that the plaintiff was inflicted with severe mental distress due to these violations and the defendants were sentenced to jointly pay a part of the requested compensation fee.
The claim that a mutual agreement existed was rejected by the court due to lack of grounds.