Gong-gam is proud of its litigation portfolio and its successes in promoting and protecting the rights of women. Gong-gam is proud of its litigation portfolio and its successes in promoting and protecting the rights of women.

In one case, we represented a female military officer who, after having been sexually harassed by a male superior officer, was brought before a military tribunal for insubordination. While the female officer was found guilty by the tribunal, we appealed the case to the Military High Court where we were successful in overturning the insubordination conviction. We are now active in working towards policy changes within the military which would identify and eliminate the harmful effects of sexual harassment and discrimination against women.
A Chinese woman in a domestic violence action
Women from the Philippines who sued their employer for forcing them into prostitution
A Vietnamese woman who fought to regain custody of her children after she unwittingly married a Korean man simply to become a surrogate mother for him and his former wife.
Gong-gam's efforts to educate activists, private sector lawyers, and the public on the importance of protecting and promoting human rights include events focused on the plight of migrant women. We recently organized and hosted training sessions and conferences for immigration activists on the special needs of migrant woman married to Korean nationals, domestic violence, and sexual harassment in the workplace.
International Marriage Brokers: As local authorities promoted so-called international marriages between Korean men and foreign women to address declining rural populations, the exploitative and discriminatory practices of international marriage brokers came to light. Gong-gam, after raising public awareness of local authorities' subsidies to marriage brokers, successfully urged the Korean government to introduce legislation in this area, resulting in the enactment of a law in 2008 to regulate the activities of international marriage brokers.

Family Registration System: Recently, the old family registration system in Korea (호주제), in which only men could be the head of a household, was abolished. In its place, a new law concerning registration of family status was enacted to signify a new system of ID registration. However, under this new system, violation of privacy rights became evident with the unwanted release of personal information, such as records showing a previous divorce and remarriage, the existence of children born of a previous marriage, sex change status, adoptions that were intended to be kept secret, etc. Since prejudice and discrimination against divorced or remarried women, as well as single unmarried mothers, are still quite problematic in Korean society, these violations of privacy rights exacerbate their already precarious situation. Within this context, Gong-gam, in seeking to limit the release of personal information and to protect privacy rights, has worked together with women's groups, other human rights groups and lawmakers, to propose amendments to the law, to seek changes to the system, and to raise public awareness of the issues.
| | Fact-Finding Research on the Exposure of Female Workers to Sexual Harassment in Workplace and Institutional Recommendations | 2011.10.11 14:10 | 14145 | |
| --- | --- | --- | --- | --- |
"I'll go sleep at your place." "Who would possibly know even if you and I slept at a motel, as long as we all shut our mouth?" This is what a 45-year-old woman, who worked for 14 years at a subcontractor of Hyundai Motor's plant in Asan, was told by two officials of the subcontractor. They kept rubbing her shoulder and hugging her from behind in the work hour.
However, the company suspended both the harassers and the victim from work for 6 months. The reason for the victim's suspension was that the victim "corrupted public morals" by letting others know she was being sexually harassed. The victim filed a complaint with the National Human Rights Commission of Korea(NHRCK), only to be followed by disciplinary dismissal from the company, while the harassers were still working at the company. When the victim started one-man demonstration in front of the company, the company shut down, changed its name and reemployed all the other workers including the harassers.
In January 2011, The National Human Rights Commission of Korea acknowledged the harassment and recommended the subcontractor compensate the woman. Nevertheless, the harassers never apologized for their fault until now, there is no workplace for her to go back, and the original contractor is consistently claiming they bear no responsibility. In the meantime, the victim is undergoing investigations and questioning over and over by NHRCK, Ministy of Labor, Prosecutors, and Korea Workers' Compensation and Welfare Service (KWCWS). To make the matter worse, the police forcibly removed the one-man demonstration sit-in site in front of Ministry of Gender Equality and Family (MOGEF) on September 2, 2011. This case is a typical example of sexual harassment, where victims exist but nobody is being punished or held responsible.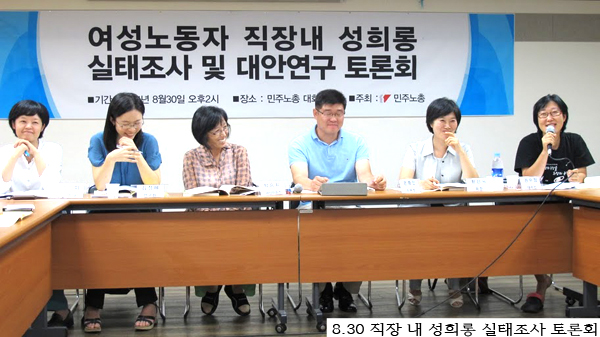 Since this case, Korean Confederation of Trade Unions(KCTU) asked Gong-Gam to research study on "Fact-Finding Research on the Exposure of Female Workers to Sexual Harassment in Workplace and Institutional Recommendations." Gong-Gam surveyed 1,700 female workers over a 5-month period, from February 2011 to June 2011 and held in-depth interviews with 14 of them. The survey reveals that 39.4% of the women had experienced sexual harassment. The instances of such experiences were more frequent for non-regular worker and indirect engaged worker than direct engaged worker. In addition, it was more frequent in case of no labor union than there being one. Majority of the victims were passive in dealing with sexual harassment issues. Only 15.3% of the direct engaged workers and 19.2% of the indirect engaged workers have actively expressed their discomfort.
In spite of such a reality, only 53.5% answered that the business owner regularly held educational sessions on preventing sexual harassment. What's more, about 70% answered "no" or "don't know" to the question asking if there is such grievance machinery to handle sexual harassment. No more than 28.5% were aware of the fact that they could file a complaint with NHRCK as one of relief measure.
The result of this fact-finding research showed that workers' awareness of the NHRCK as a sexual harassment grievance management organization was very low. Even if the NHRCK did acknowledge harassment cases and gave recommendations, it is considered invalid since there is no way to mandate the harassers. This is the case of the aforementioned female worker. Another obstacle to damage relief is the legal and institutional relief process of sexual harassment being divided between Ministry of Labor and NHRCK.
In going through multiple complex relief processes, during which the victims repeatedly testify to their experiences of harassment, they become more exhausted. Since business owners do not have an obligation to take immediate legal actions after receiving a sexual harassment complaint, more often than not, their reactions are insipid at best. It takes quite a long time even to take a disciplinary measure against the harassers. In the meantime, the victims have to endure the painful moments of facing the harassers everyday. During the process the victims are likely to voluntarily quit work.
n Germany, sexual harassment victims are entitled to the so-called work-veto rights to overcome this problem, which is worth referring to. The survey also reveals an interesting point that where there is a labor union, there is less harassment. In foreign cases, labor unions were actualizing education programs for preventing sexual harassment under contract with business owners and mandating owners' prevention measures as a labor collective agreement or employment regulations/work rules.
Considering that today's harassment victims are mostly the weaker group in their organization, labor union's active intervention in sexual harassment problems is expected to make the damage relief much easier.
After being forcefully removed, the female worker pitched a bigger sit-in tent in front of Ministry of Gender Equality and Family (MOGEF) building and started her demonstration again. Korean Confederation of Trade Unions is on her side, as well as many others who support her fight against injustice. Hopefully, her righteous cry towards sexual harassers and employers, and original contractor to discharge their legal duty will no longer be disregarded.